Jazz Guitar Chord Melody Arrangement - In A Sentimental Mood By Duke Ellington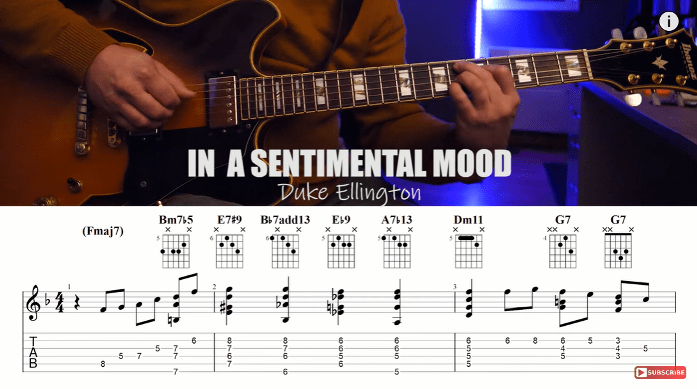 Jazz Guitar Chord Melody Arrangement - In A Sentimental Mood By Duke Ellington
This video with tab and diagrams is a chord melody arrangement for jazz guitar of the famous Duke Ellington's jazz tune "In A Sentimental Mood". The aim being to mix the melody and the chords together as a piano player would do.
Several techniques of arrangement are used in this lesson as drop 2 and drop 3 chords, rootless voicings, substitutions, 3-note chords. This study is volontarily played at a slow tempo in the video, don't hesitate to play it faster.
Jazz Guitar Chord Study - In A Sentimental Mood ( Duke Ellington) - Lesson With Tabs And Diagrams
Downloadable and printable music cheat sheets for guitar teachers and students.

Educational and decorative guitar posters and wall art for students and instructors. Scales, chords, licks, arpeggios, triads and music theory.
chords chord study chord melody voicings jazz standard youtube video