Diatonic Guitar Dyads - Lesson With Shapes - Music Theory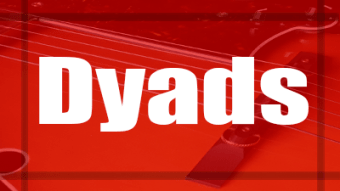 Diatonic Guitar Dyads - Lesson With Shapes - Music Theory
What is a Dyad?
A dyad is a two-note chord, a pair of notes played at the same time. These two notes are separated by an interval. Considering there are different types of intervals, there are therefore different types of dyads.
What's an Interval in Music?
An interval is the distance between two notes. It can be melodic or harmonic.
Is a Dyad can be considered a Chord?
A chord must contain, at a minimum, 3 notes. As its name implies a dyad is made of only two pitches. So, a dyad is considered as being an interval, not a chord.
What's a Diatonic Scale?
A diatonic scale is built with half and whole steps. The term diatonic comes from the ancient Greece. In western music a diatonic scale is based on five whole steps and two half-steps that can be ordered in many specific ways. The best known is the diatonic major scale based on the formula W - W - H - W - W - W - H which means Whole-Step | Whole-Step | Half-step | WholeStep | Whole-Step | Whole-Step | Half-Step.
chords dyads harmony triads voicings