Chromatic Lines And Dyads (Aka Double Stops) Over Dominant 7 Chords - Guitar Lesson With Free PDF (TAB + STANDARD NOTATION)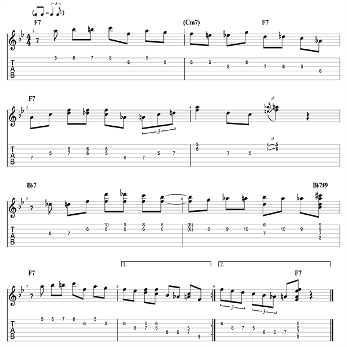 Chromatic Lines And Dyads (Aka Double Stops) Over Dominant 7 Chords - Guitar Lesson With Free PDF (TAB + STANDARD NOTATION)
This lesson provides a free PDF music sheet with tab containing some easy jazz blues lines to practice dyads and chromaticisms over two dominant chords. This tutorial is also accompanied by a short YouTube video.
Chromatic Lines & Dyads (double stops) Over Dominant 7 Chords /// Short Vidéo Guitar Lesson
Jazz Swing Backing Track /// F7 - Bb7
What's A Dyad?
In music, a dyad is a group of two notes played together sometimes referred to as "Double Stop". The interval separating the two notes gives the name to the dyad. You'll find several examples of dyads on this blog article.
In the exercise proposed here, you will here dyads in bars 3, 4, 5 and 8. Here they are :
Bar 3 :

D-F (minor third interval)
Db-F (major third)
C-F (perfect fourth)

Bar 4 :
Bar 5 :

F-D (major sixth)
F-Db (minor sixth)
F-C (perfect fifth)
F-B (perfect fourth)

Bar 8 :

D-F (minor third)
C-F (perfect fourth)
A-C (minor third)
What's A Chromaticism?
A chromaticism includes notes separated by a half-step (semitone) that does'nt belong to the scale (actually the Mixolydian mode here) on which the melody is built. Chromatic notes are used to make the link between diatonic notes . They are sometimes referred to as chromatic passing tones. You can hear a lot of chromatic lines in this exercise. Example in the first bar, the lick starts on the major third of F7 (A), then the fourth (Bb), then a chromatic passing tone (B) is used to make the link with the fifth of F7 (C). These four notes produce an ascending chromatic line.
double stops dyads Pdf tab chromatic lines chromaticisms short video Blues