Tetrad Chords / Seventh Chords - Music Theory with Guitar Shapes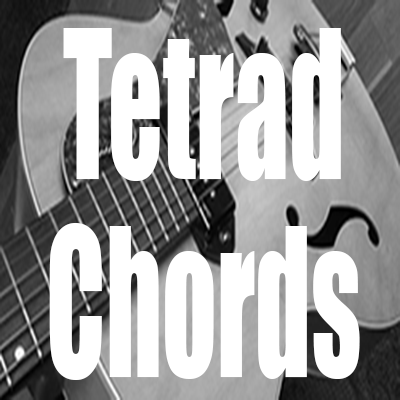 Tetrad Chords / Seventh Chords - Music Theory with Guitar Shapes
What's a Tetrad ?
A basic chord is built with three notes this is what we call "triad chords" or "triads". Tetrad chords aka "four note-chords" are simply chords containing four notes, "tetra" is a Greek root meaning four.
This means that tetrads are triads with an additional note, a major seventh or a minor seventh.
This article will enlighten you on how these tetrad chords are built and how they can be classified.
Tetrads are essentially seventh chords. Seventh chords are what happens when you stack one minor or major third on top of a triad. Common-practice music uses five types of tetrads (m7, Maj7, dom7, dim7 and half-dim7). You will find below the formulas and guitar shapes to play drop 2, drop 3 chords and drop 2-4 tetrad chords on guitar.
How to Play Tetrads on Guitar?
Major Seventh Chords
Formula is 1 - 3 - 5 - 7
(e.g. C major 7 : C-E-G-B)
Minor Seventh Chords
Formula is 1 - b3 - 5 -b7
(e.g. C minor 7 : C-Eb-G-Bb)
Dominant Seventh Chords
Formula is 1 - 3 - 5 - b7
(e.g. C7 : C-E-G-Bb)
Half-Diminished Chords
Formula is 1 - b3 - b5 - b7
(e.g. Cm7b5 : C-Eb-Gb-Bb)
Diminished seventh
Formula 1 - b3 - b5 - b7
(e.g. Cdim7: C-Eb-Gb-A)
However, jazz uses all of the tetrads chords previously seen plus some others as :
Augmented Seventh Chords
Formula is 1 - 3 - #5 - b7
(e.g. Caug7 : C-E-G#-B)
Minor/major seventh
Formula is 1 - b3 - b5 - 7
(e.g. CminMaj7 : C-Eb-G-B)
Augmented Major Seventh
Formula is 1 - 3 - #5 - 7
(e.g. CMaj7#5 : C-E-G#-B)