Augmented Triad Chords (Aug) | Guitar Diagrams | Root & Inverted Positions
Augmented Triad Chords (Aug) | Guitar Diagrams | Root & Inverted Positions
Augmented triads | Guitar diagrams and charts
What's an augmented triad?
An augmented triad chord is built by stacking a root (1), a major third (3) and an augmented fifth (#5). This is a major triad with an augmented fifth (or a sharp fifth). It means you can take the 5th tone of the major triad and move it up one half step (one fret on the guitar). They have quite an unusual quality. Because of the #5, they sound unstable and tense when played in a chord progression, so they must be used carefully and in the appropriate context.
To build a C augmented triad, we need to play C (the root), E (the major third) and G# (the augmented fifth). It would be noted Caug or even abbreviated with a + sign ; C+.
| | | | |
| --- | --- | --- | --- |
| C augmented triad | C | E | G# |
| Formula | 1 | 3 | #5 |
Augmented triad chords | Basses on 6th string | Root and inverted positions
The twelve guitar diagrams below are organized into four categories.
Basses on the sixth string.
Basses on the fifth string.
Basses on the fourth string.
Basses on the third string.
There are 3 different diagrams in each category, 1 root position and its two related inverted positions :
Root position
Third in the bass (1st inversion)
Fifth in the bass (2nd inversion)
Here are the voicings
| | | | |
| --- | --- | --- | --- |
| Root position | R | 3 | #5 |
| 1st inversion (third in the bass) | 3 | #5 | R |
| 2nd inversion (fifth in the bass) | #5 | R | 3 |
Root positions and inversions, what does it mean ?
The notes of the root position are in the order (1-3-#5) unlike the inverted positions which have their notes in a different order, so the third or the sharp fifth can be in the bass. Thus giving three different augmented triad voicings.
Symmetry
You will notice that some diagrams have identical shapes because of the symmetry of the augmented triads. Indeed, the interval (4 semitones) between the root and the major third is the same as the distance between the major third and the augmented fifth and as the distance between the augmented fifth and the root.
Root position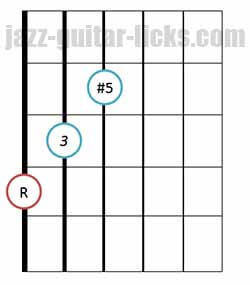 1st inversion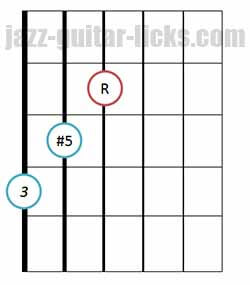 2nd inversion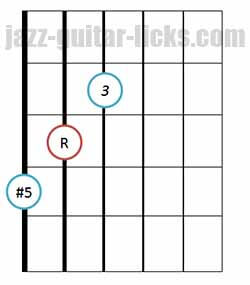 Augmented triad chords | Basses on 5th string | Root and inverted positions
Root position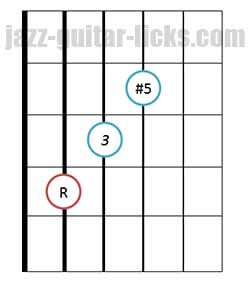 1st inversion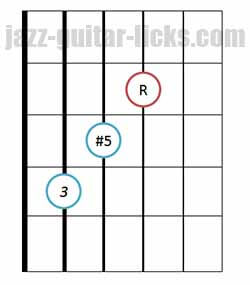 2nd inversion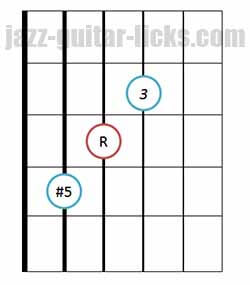 Augmented triad chords | Basses on 4th string | Root and inverted positions
Root position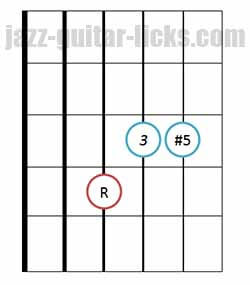 1st inversion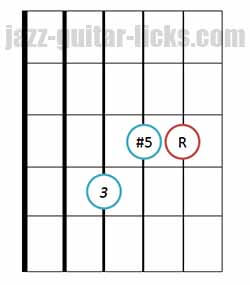 2nd inversion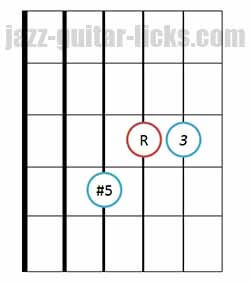 Augmented triad chords | Basses on 6th string | Root and inverted positions
Root position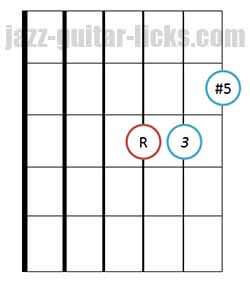 1st inversion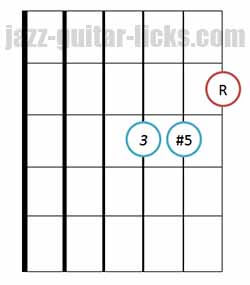 2nd inversion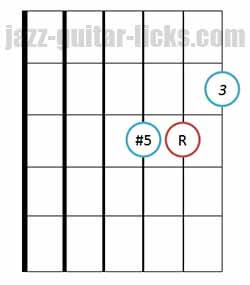 Last edited: 12/26/2018