The Chromatic Scale | Guitar Lesson with Diagrams and Licks
The Chromatic Scale | Guitar Lesson with Diagrams and Licks
What's the chromatic scale?
The chromatic scale (chromatic is from the Greek word "chroma" that means "color") is a symmetrical scale which contains the twelve musical notes available on our western instruments. It is a scale where every note is a semi-tone (or half-step) apart.
Many warm up exercises are based on this scale, these are just some exercises in understanding how the notes are arranged on the neck of the guitar. The chromatic scale has an important place in jazz improvisation. Most of the time it is present in scales or modes as bebop scales or blues scales and played in short lines called chromaticisms.
As you can see below the chromatic scale (starting on C) has no intervals larger than a semi-tone. Unlike other scales it doesn't have chords associated with. The first approach to familiarize yourself with is to play each consecutive frets, up or down on the guitar.
You also need to know that there are different ways to spell the same pitch, C# can be Db or D# can be Eb. What you will call that pitch really depends on the situation. Most of the time sharps are used when ascending in the chromatic scale and flats when descending.
| | | | | | | | | | | | | |
| --- | --- | --- | --- | --- | --- | --- | --- | --- | --- | --- | --- | --- |
| C chromatic scale (ascending) | C | C# | D | D# | E | F | F# | G | G# | A | A# | B |
| Formula | 1 | b2 | 2 | b3 | 3 | 4 | b5 | 5 | b6 | 6 | b7 | 7 |
| | | | | | | | | | | | | |
| --- | --- | --- | --- | --- | --- | --- | --- | --- | --- | --- | --- | --- |
| C chromatic scale (descending) | C | B | Bb | A | Ab | G | Gb | F | E | Eb | D | Db |
Chromatic scale guitar diagrams | one octave
Here are four one-octave chromatic scale guitar diagrams. Once you have memorized these fingerings you have to transpose them by moving the root on the desired note keeping the same intervals. Be sure to play them in twelve keys.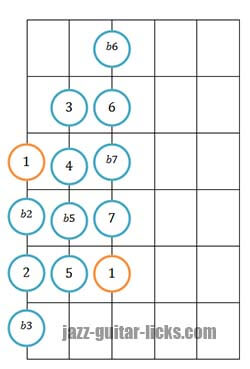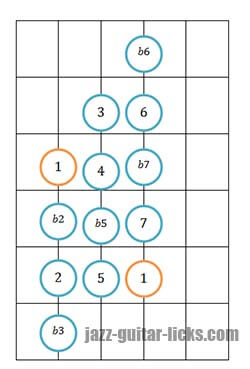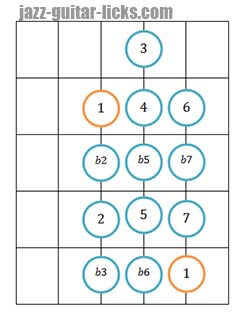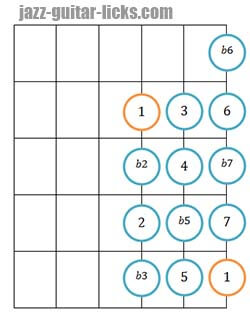 Chromatic scale guitar diagrams - Two octaves
The first diagram show you how to play the two-octave chromatic scale starting on the sixth string by the root note "R". To play it correctly, you must start with the fourth finger, then first, second, third, fourth and slide again with the fourth. Sliding is represented by the arrow.
The second pattern on the left is the two-octaves chromatic scale starting on the fifth string with the first finger.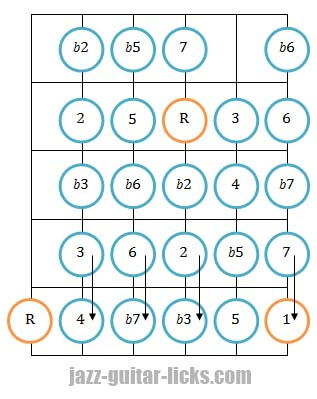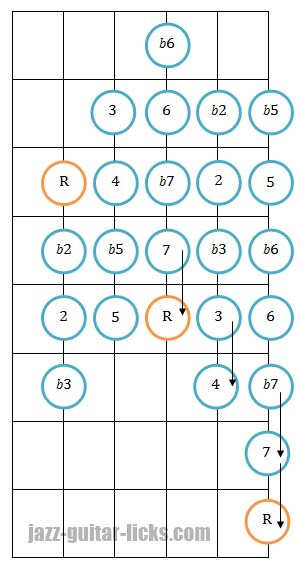 Warm-up exercices
The chromatic scale is often used to warm up before playing a gig, it allows to move all the fingers. There are many combinations, here are two examples using the first one-octave diagram above. Don't hesitate to build your own ascending and descending guitar patterns.
Warm-up exercise 1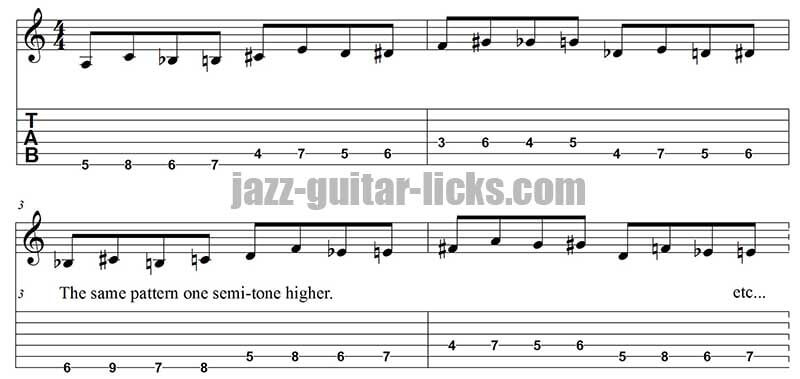 Warm-up exercise 2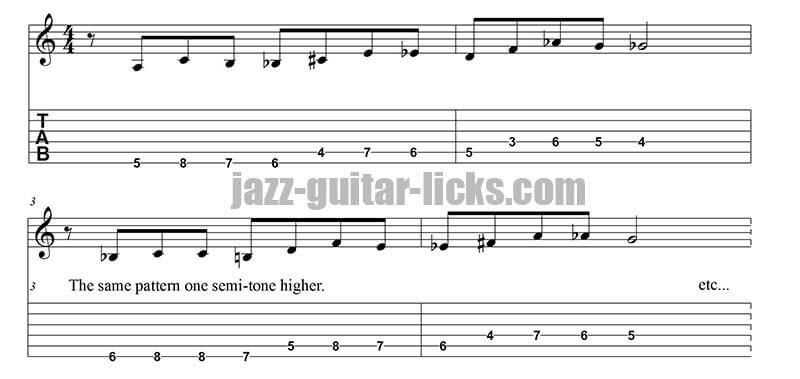 Chromatic lines
The chromatic scale is rarely played over an entire guitar solo, the best use is to incorporate some short chromatic lines into your playing by mixing them to triads, arpeggios and scales. In the following example, which is a II-V-I sequence, we can see the use of two bebop scales (Dorian bebop and dominant bebop) which have a chromatic line in their composition.

Chromatic approach | Targeting
Targeting is to approach the chord tones diatonically or chromatically. Here are three ways to target a note using chromaticisms. This technique may be used over any type of chord, arpeggio and scale (minor, major, diminished, augmented). In the following example, we will take a C major triad that is made up of a root, major third and perfect fifth (C-E and G).
C major triad

Targeting from above.
In this lick each chord tone is approached chromatically from above that means C is approached by Db, E by F and G by Ab. Please note that chord tones are played on downbeats.

Targeting from below
The same major triad whose chord tones are approached chromatically from below.

Targeting from above and below
In this one, chord tones are approached chromatically from above and below. This technique is widely used in jazz improvisation, it is also called an "enclosure". You can also do the opposite, the order of non-chord tones can be reversed, feel free to create you own jazz guitar lines.

Last edited: 12/23/2018