25 Soul-Jazz Guitar Licks | PDF eBook with Tabs, Analysis and Audio files
25 Soul-Jazz Guitar Licks | PDF eBook with Tabs, Analysis and Audio files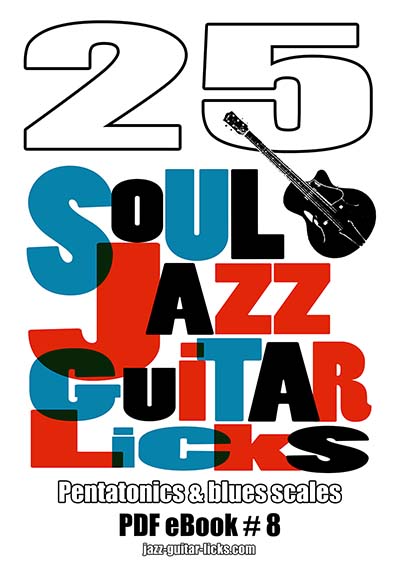 This printable PDF eBook contains 25 soul jazz guitar licks with tabs, analysis & audio files. (Backing track included).
Soul jazz is a form of jazz commonly associated with hard bop. It has strong influences from blues, rhythm & blues and gospel. All the licks in this book are based on pentatonics and minor blues scale, inspired by guitarists like Grant Green, Melvin sparks, Wes Montgomery or Kenny Burrell. Hammon organ has an important place in that style of music, you can also go listen to Lou Donaldson, Big John Patton, Jimmy "Hammond" Smith, to soak up this style.
To simplify learning, all these licks are two-bars licks in the key of Bb7 using the minor pentatonic, major pentatonic and minor blues scales.
Package details :
- 1 printable PDF eBook with 25 soul jazz guitar licks with standard notation, tabs, scales charts, guitar fretboard diagrams (5 boxes for each scales) and analysis.
- 1 soul-jazz backing track (Quality mp3 audio file).
- 25 soul jazz guitar licks audio files (Quality mp3 audio files).
Scales covered in this eBook
The pentatonic scales
Pentatonic scales are the most common scales used in blues, pop, rock, funk, soul and many other music styles. They are generally the first scales that a guitar student learns because it is easy to remember, easy to play and it sounds very good.
As its name implies, it is made up of five notes ("Penta" means "five and tonic means "notes"). There are two pentatonic scales : major and minor.
The minor pentatonic scale
In this eBook we will focus first on the minor pentatonic scale to get that blues sound specific to soul jazz music. Theoretically minor pentatonic scales must be played over minor chords, but you can play them over dominant 7th chords (which are major chords). Mixing major and minor tonality, the clash of the minor and major thirds, it is that blues thing.
The major pentatonic scale
Adding extra notes to the minor pentatonic scale is a common thing . We can add three notes of the major pentatonic scale to the minor pentatonic scale : the major second (ninth), the major third and the major sixth (thirteenth).
The minor blues scale
The minor blues scale is a hexatonic scale (it is made up of six notes), it contains the same notes as the minor pentatonic scale, including a passing tone (b5) also called "blue note". It is a good alternative to the minor pentatonic scale.
Notions & techniques covered
Intervals
Double stops
Hammer-on
Pull-off
Triplets
Sixteenth rests
Passing tones
Chromatic lines
Bends
Accents
eBook preview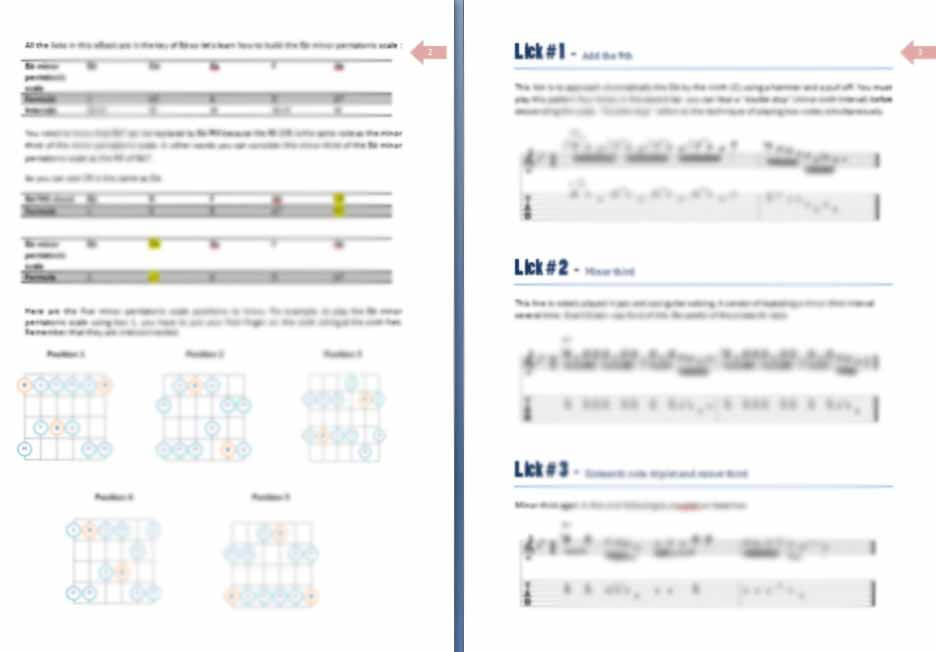 Last edited: 02/06/2018