How To Practice Scales On Guitar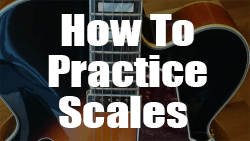 How To Practice Scales On Guitar
Tips and Tricks To Help You Practice Scales
When you want to master jazz language, one of the first things to do is to learn scales and modes. Any guitar student need to memorize the fingerings, the names and the composition of each scale.
It is important to make the difference between the main types of musical scales (major, minor, augmented, symmetric and diminished), important to know what scale works with a particular chord.
In the long run the practice of scales can be confusing and seems a never-ending. Here are some tricks and tips for practicing scales while developing your musical ear, your guitar technique and your theoretical knowledge.
jazz guitar patterns scales guitar jazz how to practice scales guitar scales jazz guitar lesson jazz guitar work out guitar lesson mastering jazz scales