Warm-up Exercise #2 - Dominant 7th Arpeggios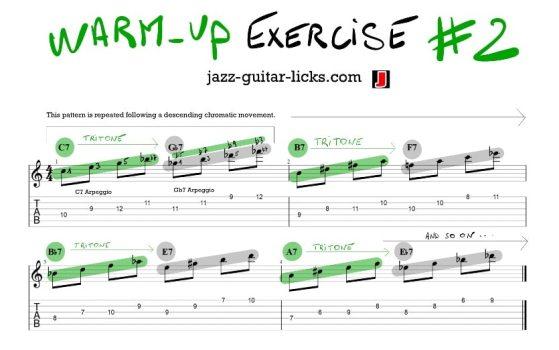 Warm-up Exercise #2 - Dominant 7th Arpeggios
This lesson is about a good warm-up exercise for guitarist implying a short pattern (4 beats) made of dominant seventh arpeggios separated by a tritone (3 whole tones = augmented fourth). This pattern is repeated following a descending chromatic movement.
Pattern Analysis
Let's take the first bar for a brief analysis (this is the same analysis for each bar). We have two arpeggiated chords (C7 and Gb7) thus giving the interval pattern : root (1), major third (3), fifth (5) and minor seventh (b7) for each chord. Gb7 is a tritone away from C7, it outlines the b5 (flat fifth), b7 (minor seventh), b9 (flat ninth) and b3 (minor third) of C7. Just repeat this pattern following a descending half-step progression : C7 - Gb7 | B7 - F7 | Bb7 - E7 | A7 - Eb7 and so on....
You'll find the free (or pay what you want) full transcription (TAB + standard notation + guitar pro file) in the Jazz Guitar Licks GUMROAD Library.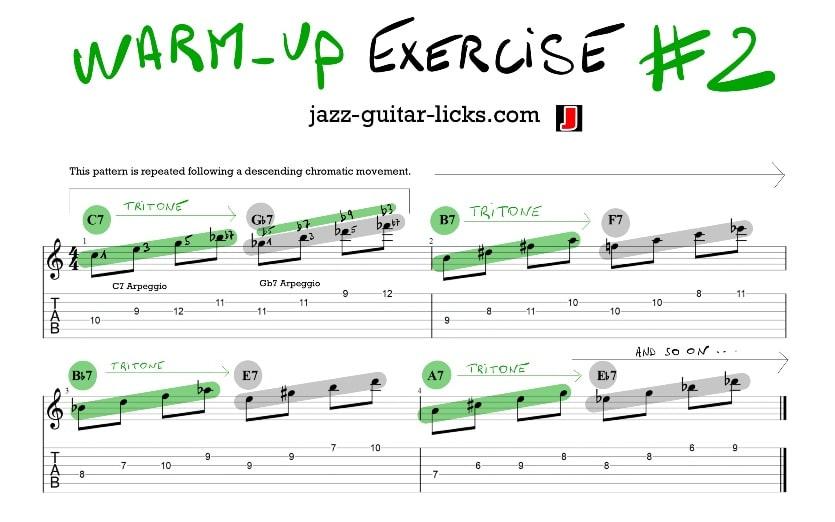 warm-up Dominant 7th arpeggios dominant 7 chords Tritone substitution guitar tabs