Major Lick Harmonized and Transposed - Jazz Guitar Lesson With Free PDF / Tabs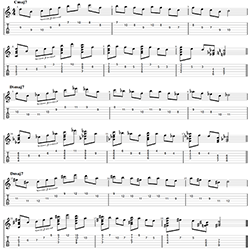 Major Lick Harmonized and Transposed - Jazz Guitar Lesson With Free PDF / Tabs
This blog post provides a guitar lesson implying a basic jazz line, built with notes from the Ionian mode (major scale), harmonized and transposed in halftone steps. Once again you'll find the free PDF of the lesson transcribed in tab / standard notation in the GUMROAD SHOP and also the related Youtube short video at the bottom.
The Basic Major Pattern
The phrase that will serve as a basis for this lesson is built with notes taken from the C major scale aka Ionian mode, C (tonic) - D (second) - E (third) - F (fourth) - G (fifth) - A (sixth) - B (seventh). It starts with the third (E) and ends on the tonic (C), notice the Cmaj7 arpeggio (C-E-G-B) in the first bar. First, try to play this major pattern in twelve keys starting on any string then, you will be more at ease to play the rest of the exercise that is to incorporate chords to this line.
The Chords
Here are some guitar voicing shapes representing the chords used in this lesson :
Drop 2 Cmaj7 (1 5 7 3)
Drop Cmaj7 fifth in the bass (5 1 3 7)
C6/9 omit third (6 9 5 1) can be seen as Am7add11 (or Am11).
Cmaj7add13 (rootless) (5 7 3 13).
C6/9 (rootless) (3 6 9 5). Can be seen as Em7add11 (Em11).
C inverted major triad (3 5 1).
The Exercise
Here in the video with guitar tabs overlayed, the exercise is played in three different keys (Cmaj, Dbmaj and D). But most importly of all don't be afraid to play them in all twelve keys, following the cycle of fourths or any other chord progression, anywhere on the guitar neck with your own fingerings.
Major Jazz Guitar Lick & Chords /// Short Lesson - Free PDF
major lick ionian mode free pdf guitar tabs harmonization scale dictionary chord dictionary