Dominant 9th Arpeggios and Cycle Of Fourths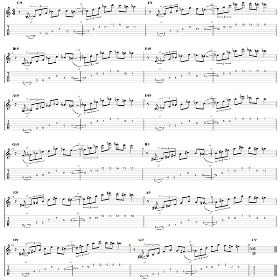 Dominant 9th Arpeggios and Cycle Of Fourths
This short guitar tutorial is about to play a 2-bar line built from a dominant ninth arpeggio pattern around the cycle of fourths. This lesson comes with a short video available on Jazz Guitar Licks social networks as Youtube, Facebook or Instagram (link at the top of this website). You can also get the free PDF tab in the GUMROAD shop.
The Exercise
As explained previously, this exercise is to play a lick using a dominant 9 arpeggio pattern (1 - 3 - 5 - b7 - 9 - 1) played twice and over two octaves. Each arpeggio pattern is approached chromatically from below and includes a passing tone at the end, between the b7 and the 1. This lick is played in twelve keys organized so that it follows the cycle of fourths (aka circle of fourths).
Dominant 9th Arpeggio Shapes
Here are some basic dominant 9 arpeggio shapes for guitar used in this exercise. The first four diagrams contain the intervals that make up a 9th arpeggio : 1 (tonic), 3 (major third), 5 (perfect fifth), b7 (minor seventh) and 9 (ninth, actually the second on octave up). The four other forms represent the same 9th arpeggio shapes but in the key of G (G7).


arpeggios cycle of fourths guitar arpeggios ninth arpeggios free lesson