Dominant 9th Arpeggios - Guitar Diagrams, Charts and Licks
Dominant 9th Arpeggios - Guitar Diagrams, Charts and Licks
What's a dominant 9 arpeggio?
Dominant 9 arpeggios contain the five same notes as the chords they come from, namely dominant 9th chords. They are spelt 1 (root), 3 (major third), 5 (perfect fifth), b7 (minor seventh) and 9 (major ninth). In sum, a dominant 9 arpeggio is a dominant seventh arpeggio with a ninth added.
Let's note in passing that it is good to make the difference between a major ninth and a minor ninth. A major ninth (9) is an octave larger than a second (2). That is to say it is an interval built with an octave plus a second (14 semitones). The minor ninth (b9) which is made up of 13 semitones (a minor second plus an octave).
| | | | | | |
| --- | --- | --- | --- | --- | --- |
| G9 arpeggio | G | B | D | F | A |
| Formula | 1 | 3 | 5 | b7 | 9 (2) |
Dominant 9 guitar arpeggios - Diagrams and shapes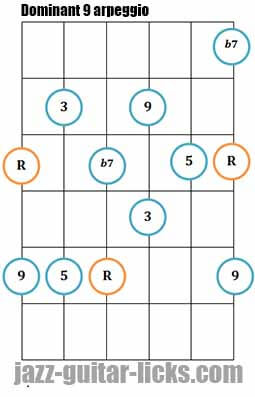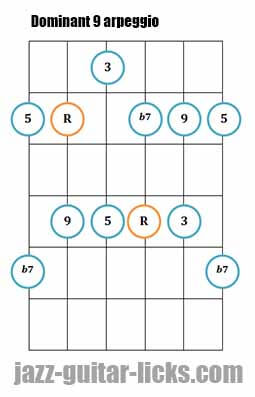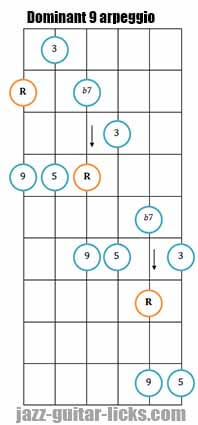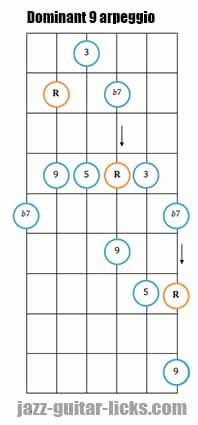 Arpeggio Superimposition
Arpeggio superimposition is a very interesting harmonic concept that enables you to create more sophisticated sounds. This consists of superimposing different arpeggios together. There is a lot to say about that, in this article we will only talk about the two arpeggios that makes a dominant 9 arpeggio. As shown in the example below, a C9 arpeggio contains two arpeggios :
A dominant 7 arpeggio, G7 (G-B-D-F).
A B half-diminished arpeggio (Bm7b5) built on the major third of C (B) (B-D-F-A). This one is often called "3-9" superimposition. The idea is to build a seventh (or a triad) on the third of the chord you're playing over.

II-V-I sequence and arpeggios
The II-V-I sequence is one of the most popular chord progression in jazz music. Two arpeggios are used in this example : Fmaj7 (F-A-C-E) over Dm7 and Bm7b5 (B-D-F-A) over G7.

In this II-V-I we will be playing notes from the D Dorian mode over Dm7 and a G7 arpeggio over G7.

Dominant 9 Arpeggios & Cycle of Fourths /// Short Guitar Tutorial
Last edited: 2022-02-10