5 Tritone substitution jazz guitar licks | E-book Pdf
5 Tritone substitution jazz guitar licks | E-book Pdf
1.90 $ - Secure payment by gumroad / Paypal
If you have any questions or if you encounter technical problems please don't hesitate to contact me.
Thanks
Stef Ramin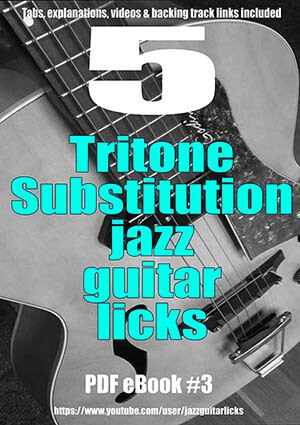 The tritone substitution is one of the most common substitutions found in jazz music. The basic application of a tritone substitution is to take any 7th chord and play another 7th chord that has its root a tritone away from the original.
How does it work ? How to apply a tritone substitution ? This eBook answers these questions with five easy examples of tritone substitution over a II-V-I progression.
Tabs, analysis, youtube videos and backing tracks links included.
Last edited: 20/10/2017