Jazz Trumpet Solo Transcription For Guitar - Clifford Brown - Jordu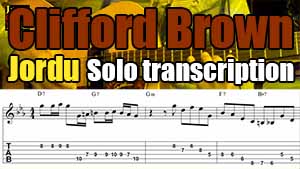 Jazz Trumpet Solo Transcription For Guitar - Clifford Brown - Jordu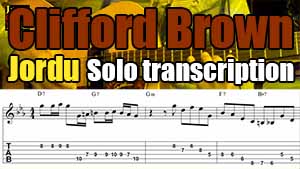 Be jazz guitarist does not mean that you have to play only guitarist's solos. It's very important to transcribe lines of other instruments like sax, trumpet or piano for example. This way you will change your habits and you will play some jazz lines that maybe you would never have played before.
This lesson is about a Clifford Brown trumpet solo transcription in "Jordu". Clifford Brown was an American songwriter and jazz trumpet player. He composed two jazz pieces which have become standards, "Joy spring" and "Daahoud". He has collaborated with jazz players as Art Blakey and Lionel Hampton before forming his own group with the drummer, percussionist and composer Max Roach.
Jordu is a jazz standard written by Irvin "Duke" Jordan. He has been popularised by Clifford Brown and Max Roach quintet in the album that includes the two standards "Joy spring" and "Daahoud" .This is an AABA traditional jazz form in the key of C minor. Referring to the realbook the chord progression is :
A
D7 G7 | Cm | F7 Bb7 | EbM7
D7 G7 | Cm | Ab7 | G7
B
G7 C7 | F7 Bb7 | Eb7 Ab7 | Db7
F7 Bb7 | Eb7 Ab7 | Db7 Gb7 | G7
The transcription is focused on the A part only. This will allow you to understand how to improvise and which scale to play over two interesting jazz progressions :
II7-V7-Im sequence (D7-G7-Cm) which is a minor II-V-I with a dominant 7th (V7) chord instead of the usual minor seventh flat ninth chord (II).
II7-V7-IM sequence which is a major II-V-I with a dominant seventh (II7) chord instead of a minor seventh chord (II).
Clifford Brown solo transcription - jazz guitar lesson - Jordu
jazz lesson Clifford Brown Jazz solo transcription II7-V7-I sequences