The Aeolian Mode aka Natural Minor Scale | Guitar Lesson With Diagrams and Theory
The Aeolian Mode aka Natural Minor Scale | Guitar Lesson With Diagrams and Theory
What's the Aeolian Scale?
The Aeolian mode also called "natural minor scale" or "relative minor scale is the sixth mode of the major scale. The interval pattern is 1 (tonic) - 2 (second) - b3 (minor third) - 4 (fourth) - 5 (fifth) - b6 (minor sixth) - b7 (minor seventh).
Aeolian Mode Construction
The Aeolian mode can be formed by using the same notes as the major scale, but starting and ending with the 6th degree of the major scale. You can consider this 6th degree as the root note of the Aeolian mode.
| | | | | | | | |
| --- | --- | --- | --- | --- | --- | --- | --- |
| A Aeolian mode | A | B | C | D | E | F | G |
| Formula | 1 | 2 | b3 | 4 | 5 | b6 | b7 |
| Intervals | W | H | W | W | H | W | W |
(W = whole step ; H = half step)
Difference Between Aeolian and Dorian Mode
There is only one difference between the Dorian mode and the Aeolian mode. The Dorian mode has a major sixth (6) whereas the Aeolian mode has a minor sixth (b6) .
How To Apply The Aeolian Mode?
You can play the Aeolian mode over minor chord types as min, min7, min9, min11, min7#5, minb6, minb13.
Aeolian Mode on Guitar - One Octave Shapes
These four shapes represent the Aeolian mode positions on the guitar neck.
It is recommended to play these patterns starting with the tonic (1), in order to hear correctly the color of this scale.
It is important to practice the Aeolian mode in twelve keys. For this, you just have to move the tonic to the desired tonality while keeping the same position.
Let's take an example : To play the A Aeolian mode using the shape 2 you must place your first finger on the fifth string at the twelfth fret.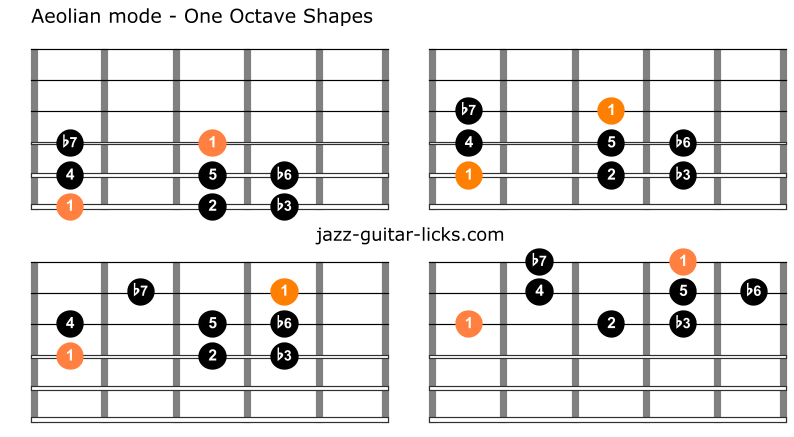 Aeolian Mode Two Octave Shapes
Contrary to the four previous diagrams, the next couple of shapes show the Aeolian mode covering two octaves. Once again, try to play these shapes in all twelve keys.
Aeolian Mode and Minor triad Chord - Audio file

Aeolian Mode | 7 Positions | 3 Notes Per String
Here are 7 shapes to play the Aeolian mode all over the guitar neck.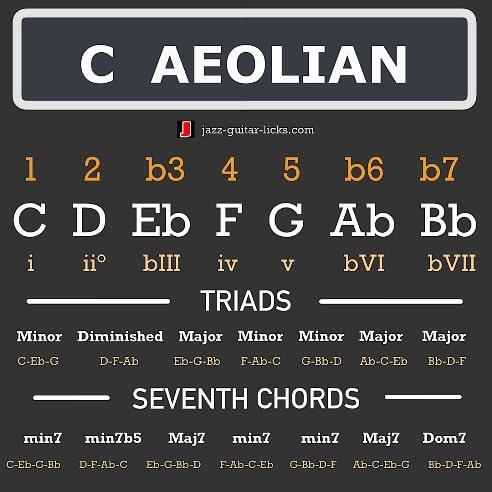 The Aeolian Mode in Twelve Keys
How To Play The Aeolian Mode In Twelve Keys?
Here is the Aeolian mode in twelve keys. Each jazz guitar student must memorize the structure of this minor scale that is W-H-W-W-H-W-W and be able to play it in any key on the guitar.
The parent major scale is shown in this chart, it is located a minor third above the tonal center. For example, the A Aeolian mode contains the same notes as the C major scale. These two modes are made up of the same tones, but they have a different tonal center.
| | | |
| --- | --- | --- |
| Mode | Tones | Parent major scale |
| A Aeolian Mode | A,B,C,D,E,F,G | C major |
| Bb Aeolian Mode | Bb,C,Db,Eb,F,Gb,Ab | Db major |
| B Aeolian Mode | B,C#,D,E,F#,G,A | D major |
| C Aeolian Mode | C,D,Eb,F,G,Ab,Bb | Eb major |
| Db Aeolian Mode | C#,D#,E,F#,G#,A,B | E major |
| D Aeolian Mode | D,E,F,G,A,Bb,C | F major |
| Eb Aeolian Mode | Eb,F,Gb,Ab, Bb, Cb, Db | Gb major |
| E Aeolian Mode | E,F#,G,A,B,C,D | G major |
| F Aeolian Mode | F,G,Ab,Bb,C,Db,Eb | Ab major |
| F# Aeolian Mode | F#,G#,A,B,C#,D,E | A major |
| G Aeolian Mode | G,A,Bb,C,D,Eb,F | Bb major |
| G# Aeolian Mode | G#,A#,B,C#,D#,E,F# | B major |
Last edited: 2023-04-04