The Phrygian Mode | Guitar Lesson With Diagrams, Theory and Licks
The Phrygian Mode | Guitar Lesson With Diagrams, Theory and Licks
What is The Phrygian Mode?
The Phrygian mode is the third mode of the major scale. It is one of the three minor modes of the major scale. It is a minor type scale spelled 1 - b2 - b3 - 4 - 5 - b6 - b7. It can be played over minor chords however it is rarely used because of its b2 scale tone.
| | | | | | | | |
| --- | --- | --- | --- | --- | --- | --- | --- |
| E Phrygian mode | E | F | G | A | B | C | D |
| Formula | 1 | b2 (b9) | b3 | 4(11) | 5 | b6 (b13) | b7 |
| Intervals | H | W | W | W | H | W | W |
(W = whole step ; H = half step)
The Phrygian mode can be used in your guitar improvisations over the following chord types :
min, min7, min7b9, 7sus4​, mb6
Phrygian Mode One Octave Shapes
You will find on the right four shapes to play the Phrygian mode on guitar. Each diagram represent the Phrygian scale within one octave.
The root (R) represented by the orange circle, gives its name to the scale.
Meaning that if you use the first shape starting with the lowest note (on the E string), and put your first finger on the sixth string at the third fret, you'll get a G Phrygian scale.
Phrygian Mode and Minor triad Chord - Audio file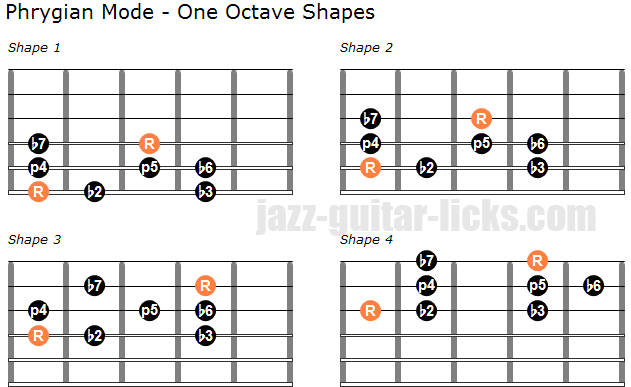 Phrygian Mode Two Octaves Shapes
These two other shapes show you how to play the Phrygian scale within the space of two octaves (and a little bit more).
To hear and perceive correctly the sound of the Phrygian mode, it is recommended to play these patterns starting with the "root".
Once you have learned these these shapes, try to play them in twelve keys by moving the root to the desired tonality while still preserving the intervals.

The Phrygian mode in twelve keys
When practicing scales on guitar it is important to play them in all twelve keys. The chart below provides the notes for each Phrygian scale.
| | |
| --- | --- |
| A Phrygian Mode | A,Bb,C,D,E,F,G |
| Bb Phrygian Mode | Bb,C,D,Eb,F,G, Ab |
| B Phrygian Mode | B,C,D,E,F#,G,A |
| C Phrygian Mode | C,Db,Eb,F,G,Ab,Bb |
| Db Phrygian Mode | Db,Eb,F,Gb,Ab,Bb,Cb |
| D Phrygian Mode | D,Eb,F,G,A,Bb,C |
| Eb Phrygian Mode | Eb,Fb,Gb,Ab,Bb,Cb,Db |
| E Phrygian Mode | E,F,G,A,B,C,D |
| F Phrygian Mode | F,Gb,Ab,Bb,C,Db,Eb |
| F# Phrygian Mode | F#,G,A,B,C#,D,E |
| G Phrygian Mode | G,Ab,Bb,C,D,Eb,F |
| Ab Phrygian Mode | Ab,Bb,Cb,Db,Eb,Fb,Gb |
Phrygian Jazz Backing Track With Guitar Chart
Last edited: 02/22/2020