How To Connect Dominant 7th Arpeggios In Blues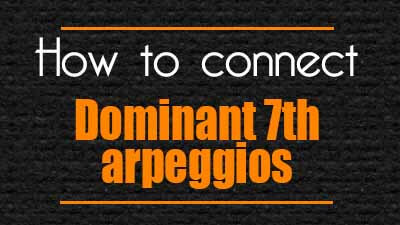 How To Connect Dominant 7th Arpeggios In Blues
Mastering arpeggios is inevitable for anyone who wants to improve its sense of improvisation and bring more musicality to its playing. Practicing and mastering them is a necessity for all jazz guitarists, indeed arpeggios are great tools to improvise over chord changes and jazz standards.
You'll find at the end of this lesson a basic blues study in C showing how to connect dominant 7 arpeggios and here a serie of Mini Lessons with tab, PDF guitar pro file and short video for practicing arpeggios a little more closely.
Some basics
What's An Arpeggio ?
An arpeggio is a chord whose notes are played one by one, it is a chord played like a scale.
Why Playing Arpeggios ?
Playing them in your guitar solo will outline the harmony of the tune. It will give your improvisation a sense of direction, making your jazz lines more beautiful, more melodic, more interesting to listen to.
How To Use Arpeggios ?
The first rule is to play the arpeggio corresponding to a chord. For example, playing a D minor seventh arpeggio over a Dm7 chord or a G dominant 7th arpeggio over a G7 chord.
You can also use them to add color to your solos by using arpeggio substitutions and superimpositions (playing an arpeggio different from the chord). For example, a Bm7b5 arpeggio over a G7 chord. This way you will highlight the 9th of G7. There are many possibilities.
Dominant 7th arpeggios
This lesson is an example of how you can use and play arpeggios in blues. We consider a standard dominant Blues in C. The chords in the simplest form of a dominant Blues in C are C7, F7, and G7.
To spice up this basic 12-bars blues progression we will add two dominant 9th chords which are C9 and F9 chords in bars 4 and 11. Most beginning guitar players when faced with soloing over blues chord progression usually use the familiar minor pentatonic scale with the blue note added (b5). That's a good choice, but it sounds too "bluesy", don't outline the harmony and can be rather limited at the long run.
In this context, we will use three dominant 7th arpeggios corresponding to three main chords of the blues namely C7, F7 and G7. Remember that Dominant seventh arpeggios are built with :
Root (1)
Major third (3)
Fifth (5)
Minor seventh (b7)
| | | | | |
| --- | --- | --- | --- | --- |
| C7 arpeggio | C | E | G | Bb |
| F7 arpeggio | F | A | C | Eb |
| G7 arpeggio | G | B | D | F |
How To Connect Dominant 7th Arpeggios In A Blues ?
When you want to play fluid and melodic lines using arpeggios, it is important to connect them. The distance between the connected notes should not be higher than 2 semitones.
Example with the bars 1 & 2 of the C blues below. We will play two dominant 7th arpeggios, respectively C7 and F7. They are connected by the third (E) of the C dominant 7th arpeggio and the tonic (F) of F dominant 7th arpeggio.
The distance between E & F is 1 semitone, the process of linking two notes close to each other produce a fluid sequence.
Another example, in bars 4 & 5. The minor seventh (Bb) of C7 is connected to the fifth (C) of F7. Once again Bb and C are separated by 2 semitones. You can also connect notes using a semitone, this is the case between Eb and E in bars 6 & 7, respectively minor seventh of F7 and third of C7.
Guitar Arpeggios - Lesson With Shapes and Formulas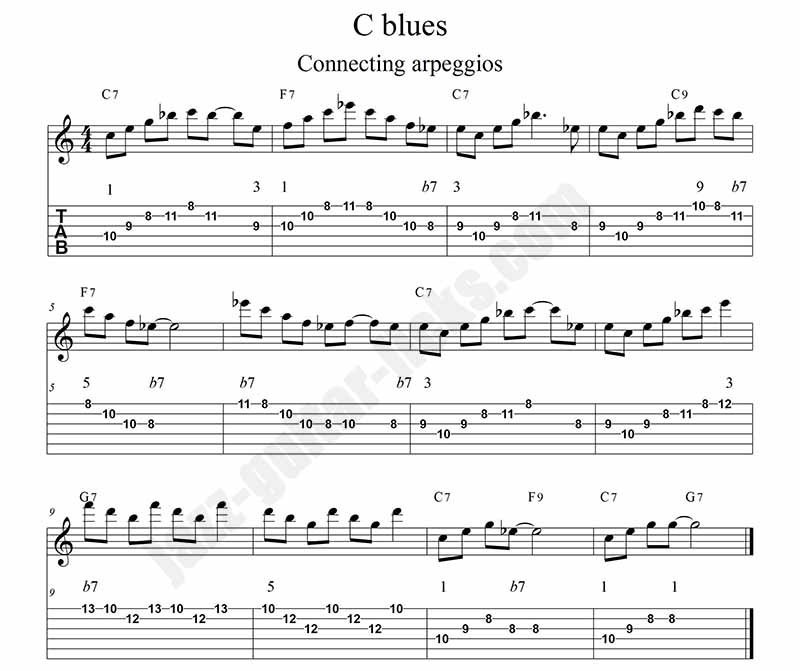 Dominant 7th arpeggios arpeggios jazz Blues progression