How To Play Pentatonic Scales Over Giant Steps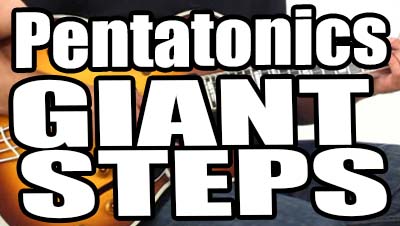 How To Play Pentatonic Scales Over Giant Steps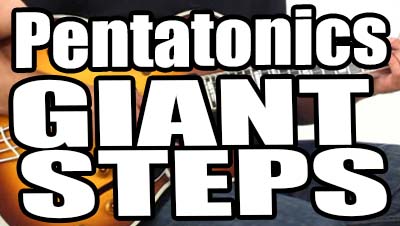 Giant Steps is one of those tunes in jazz that sends a bolt of fear through a lot of young or even experienced jazz musicians. It certainly does that to me anyway! The fast harmonic rhythm and the seemingly distant relationships between the chords means it is a very daunting challenge.
However, there is a very cool and simple way of practicing navigating through these changes and it involves using 3 different pentatonic scales.
Harmonic structure of Giant Steps
Before we get into that fully, let's take a look at the harmonic structure of Giant Steps.
Pentatonic scales on Giant Steps (Bar 1 to 8)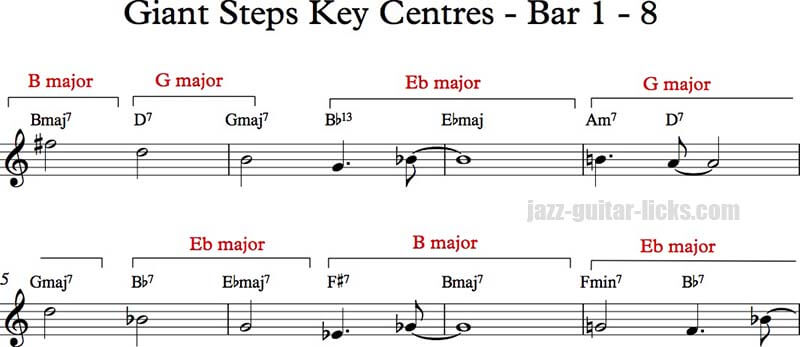 The brackets above the chord symbols show the key centres which the chords are indicating. Giant Steps is based on 3 different key centres all of which are a major 3rd apart. These are B major, G major and Eb major. As you can see from the brackets, these key centres change very quickly and often within the bar which is what makes Giant Steps such a challenging tune.
Pentatonic scales on Giant Steps (Bar 9 to 16)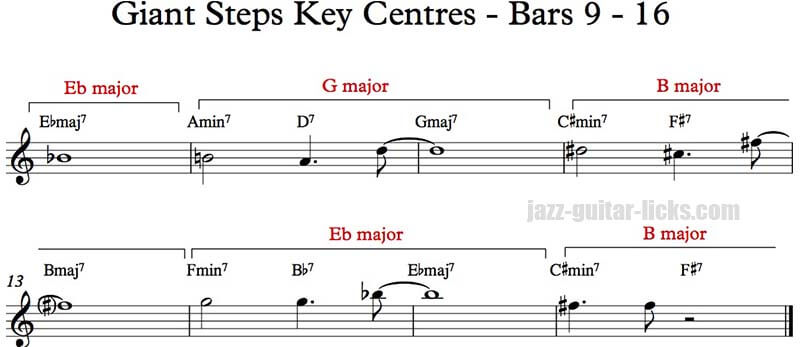 The final 8 bars of Giant Steps have a much slower and more regular harmonic rhythm than the first and are therefore much easier to play. They are made up of 5 sets of major 2 5 1s all of which last for 2 bars – the first one begins in bar 8 of the previous image.

This is the full layout of the key centres in Giant Steps.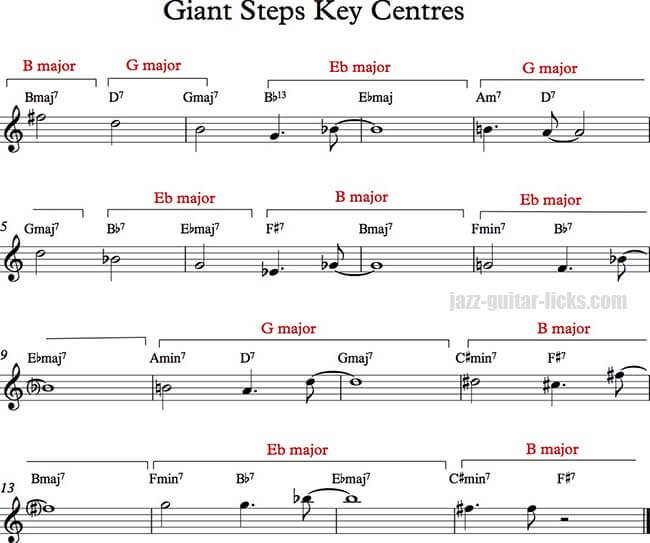 How to play pentatonic scales on Giant steps
To get to grips with this sequence, we have to be comfortable playing and modulating to 3 different key centres. When we are playing on these key centres, a really effective thing to do is to play a major pentatonic scale based on the 5th of whatever key centre you are in.

For example:
When we are playing in the key centre of B major, we can play an F# major pentatonic scale.
In the key centre of G major, we can play a D major pentatonic scale.
In the key centre of Eb major, we can play a Bb major pentatonic scale.

So, this means that we can get through this entire tune using only 3 really simple scales.
F# major pentatonic = F#, G#, A#, C#, D#.
D major pentatonic = D, E, F#, A, B.
Bb major pentatonic = Bb, C, D, F, G
How to practice playing pentatonic scales on Giant Steps
The most effective way to practice this concept is to use an exercise called a continuous scale exercise.

This exercise involves playing a specific number of notes of a certain scale and then changing to the nearest note of the next scale when the key centre changes no matter where in the scale you are. We will be using the 3 pentatonic scales I mentioned above and the number of notes that we play before changing scale will be dictated by where the key centres change in the harmony of Giant Steps.

I am going to show you an example of this exercise in the 1st position on the guitar but you can eventually move the concept to any position.
Giant Steps - Pentatonic scale exercise for guitar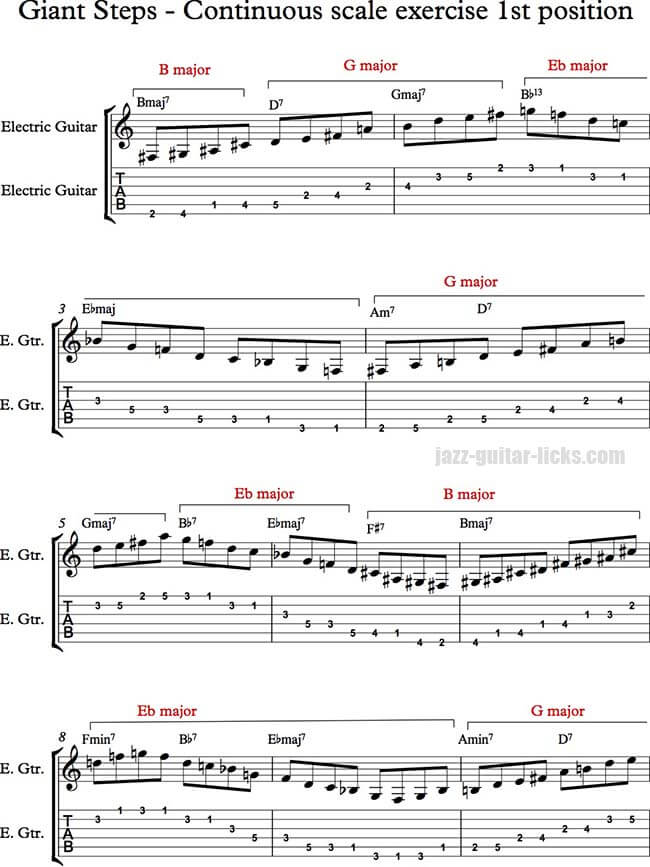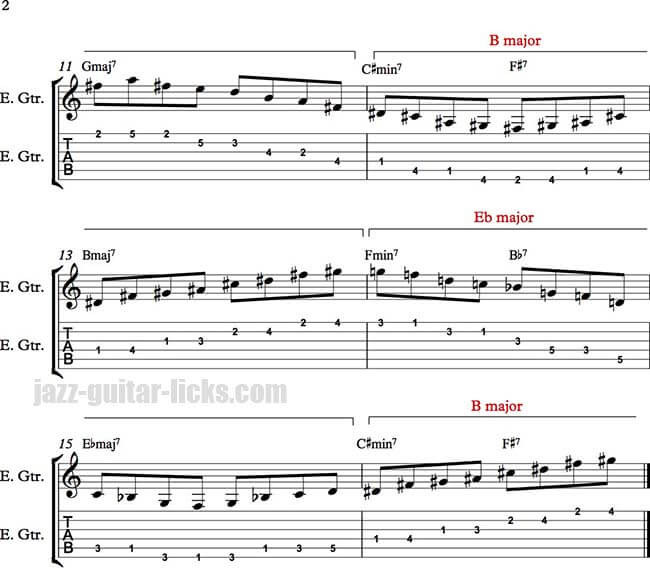 This is a full chorus of continuous scale exercise on Giant Steps, starting from the lowest note possible in the position (F or F#) and finishing at the highest note in the position ( A or Ab/G#).

How to use this

1) Play through the exercise or a small section of the exercise
2) Notice how and where the scale changes e.g. In bar 1, we play 4 notes of F# major pentatonic and then 8 notes of D major pentatonic. Then we play 4 notes of Bb major pentatonic and then a full bar (8 notes) to take us to the end of bar 3.
3) Loop this small section until you feel comfortable you can play it without reading it and you can feel where the scale changes.
4) Do this on the next small section and try to link the two sections up.

This exercise is a sure-fire way of improving your fretboard knowledge and your jazz language.
Playing in continuous scales is a technique that has really helped me get to grips with playing jazz and will help your improvisation greatly, almost without you knowing it.
I hope that this has been useful to you all and I will no doubt refer to continuous scale exercises again very soon.

About the author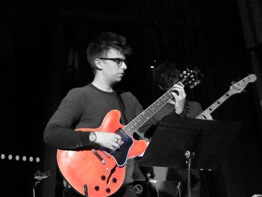 Luke is a session guitarist and jazz musician based in Cardiff, Wales. He's currently studying for a degree in Jazz Guitar from the Royal Welsh College of Music and Drama and is taught by some of the top musicians in the UK. He regularly performs around the UK with various professional projects whilst also composing original music and performing with his own contemporary jazz trio – 2alike. Luke is also a keen writer and tutor both online and in 1-1 lessons.
guitar scales jazz standard Giant steps Pentatonic scales